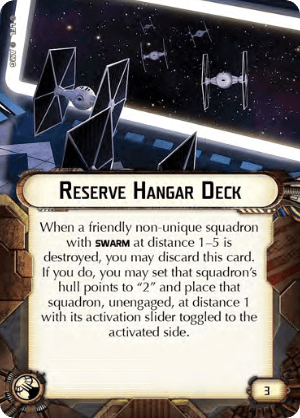 Expansions
Rebellion in the Rim (SWM31)
Galactic Republic Fleet Starter (SWM34)
Separatist Alliance Fleet Starter (SWM35)
Upgrade Card Collection (SWM38)
Card text
When a friendly non-unique squadron with swarm at distance 1-5 is destroyed, you may discard this card. If you do, you may set that squadron's hull points to "2" and place that squadron, unengaged, at distance 1 with its activation slider toggled to the activated side.
Properties
| | |
| --- | --- |
| Type | Offensive Retrofit |
| Faction | Neutral |
| Unique | No |
| Points | 3 |
Timing
This Upgrade Card may be discarded when a friendly non-unique squadron with "Swarm" is destroyed.
Community rulings
All efforts must be made to place the squadron unengaged. If this is not possible, then the squadron may be placed engaged with as few enemy squadrons as possible.
Jul 16, 2020 | Source: KARM