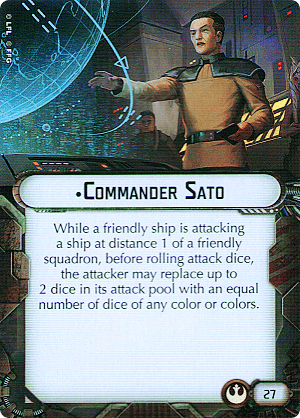 Expansions
Upgrade Card Collection (SWM38)
Phoenix Home (SWM21)
Card text
While a friendly ship is attacking a ship at distance 1 of a friendly squadron, before rolling attack dice, the attacker may replace up to 2 dice in its attack pool with an equal number of dice of any color or colors.
Properties
| | |
| --- | --- |
| Type | Commander |
| Faction | Rebel |
| Unique | Yes |
| Points | 27 |
Timing
This Upgrade Card triggers before rolling attack dice, and can be used on a ships battery armament.
Official rulings
Question: Does Commander Sato replace dice before or after Thermal Shields?
Answer: After. The timing step for Thermal Shields is "after an attacker gathers dice". Commander Sato's timing step is "before rolling", which occurs later.
Jun 14, 2021 | Source: AMG Rules Forum
Community rulings
While one of Satos ships is attacking another ship that is at Distance 1 of a friendly squadron (a squadron owned by Sato), before the initial attack pool is rolled, 1 or 2 dice in that initial attack pool may be replaced with 1 or 2 dice of another color(s).
Jul 9, 2020 | Source: KARM
Any dice gained by cards equipped that increase the battery armament of a ship (Spinal Armament, Rapid Reload, etc) are eligible to be chosen
Jul 9, 2020 | Source: KARM